For a long time now, I've been testing, reviewing and searching for the best bike cup holder. 
So when I stumbled across the JOERide, it was only right for me to get hold of one and put it through its paces. 
Cycling with a cup of coffee has never been an easy task.
I've spilt my fair share over the years, so naturally, I was excited to produce a JOERide review and find out if this was the best way to carry a cuppa whilst on two wheels. 
In this concise review, I'll show you how the JOERide works, talk you through its strengths and weaknesses, and finally, let you know if it's worth your hard-earned cash.
Add a header to begin generating the table of contents
Why You Can Trust BikeLockWiki:
Unlike many websites, I personally test every product featured in our reviews.
This enables me to provide valuable insight into each product's performance, allowing readers to make informed decisions.
I don't recommend products I wouldn't use myself, and I point out any issues I encounter during testing.
Publishing information on potential issues with products pushes manufacturers to up their game, whilst providing a clear understanding of what users can expect from any given product. 
Whilst paid product guest-post placements would generate BikeLockWiki a lot of income, I don't (and will never) accept payments to have biased guest posts added to BikeLockWiki. 
I choose which products are featured on BikeLockWiki based on their popularity, use and features. This will not change. 
As you'll find below, we clearly explain our testing procedure and the features/functions we judge for each review.
We've also developed our own in-house testing procedure for bicycle security to give cyclists a clearer understanding of how secure locks really are.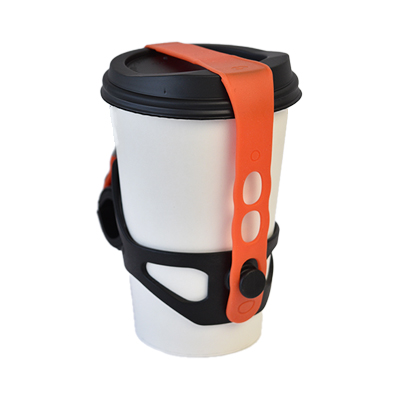 Clamps to – 22-30mm handlebars
Holds – To-go style cups and flasks 
Weight – 71g (2.5oz) 
Warranty – (see here)
If, like me, you enjoy riding with a hot cup of Joe, the JOERide handlebar cup holder will serve you well. 
It's reasonably priced, built from durable materials and uses silicone membrane technology to ensure your coffee stays in your cup, even on bumpy roads and trails. 
It's clear that the JOERide was created by someone who loves their coffee, alongside being a talented, innovative engineer.
During testing, I did find a few tweaks that could be made to improve the overall JOERide experience. You can read about these towards the end of the review.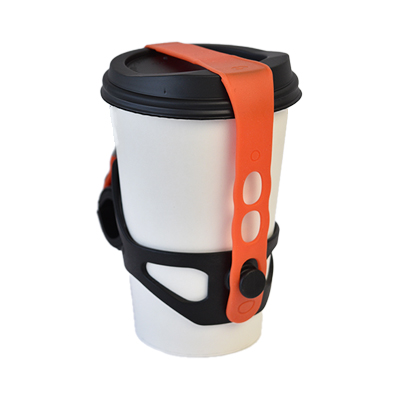 Works with: Any bar/handle 22-30mm⌀
Holds: To-go style coffee cups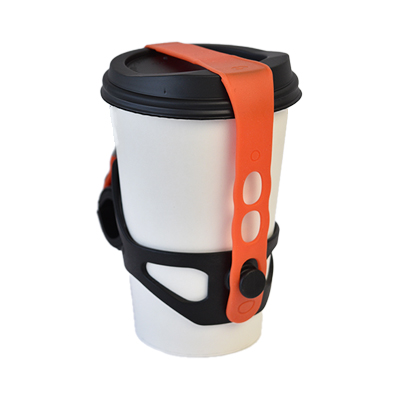 Works with: Any bar/handle 22-30mm⌀
Holds: To-go style coffee cups
Last update on 2023-10-04 at 13:30 / Affiliate links / Images from Amazon Product Advertising API
The JOERide is a coffee cup holder designed to be used on any bike, stroller, scooter or just about anything with handles offering a circumference of 22 – 30mm. 
Using membrane seal technology, the JOERide prevents your drink from spilling whilst you're on the move and is compatible with most to-go-style cups.
As well as preventing small spills, the JOERide's silicone strap prevents your cup from skipping out of the holder when crossing uneven terrain such as speed bumps or potholes. 
What the JOERide Does Well
Without beating around the bush, I've used just about every decent coffee cup holder on the market.
None of these have displayed the same spill-stopping ability as the JOERide.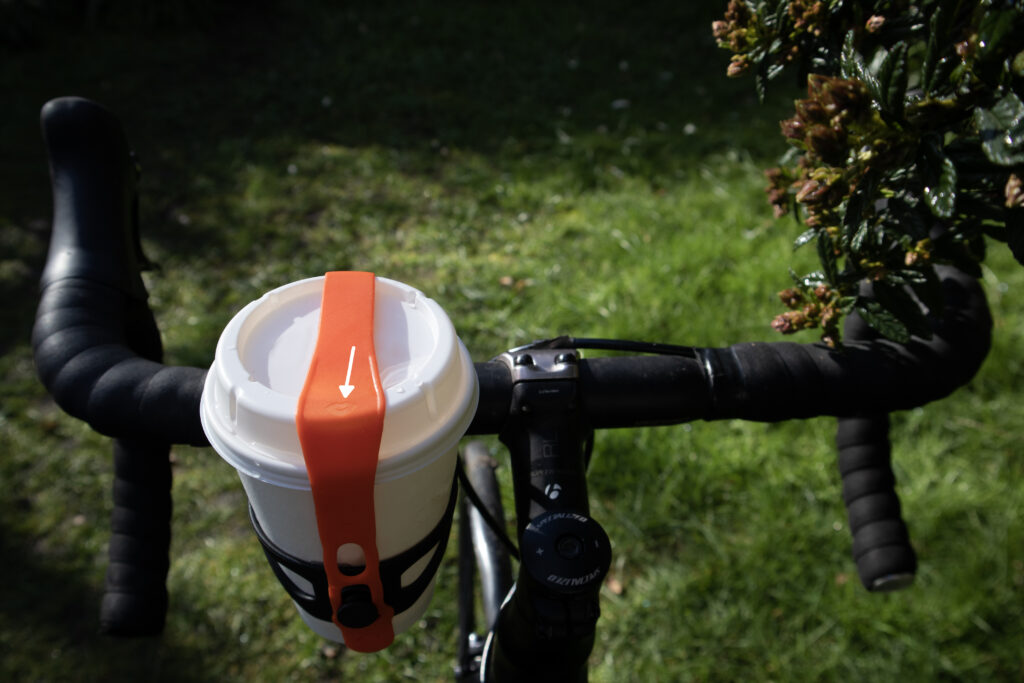 The anti-spill silicone strap the JOERide uses sits snugly over the drinking hole on to-go coffee cups and can be tightened or loosened to accommodate cups of different sizes. 
I need every drop of coffee I can get in the morning, and over the last few weeks of testing, the JOERide has reduced the amount I lose to the road on my commute.
No complaints so far!
Made From High-Quality, Durable Materials
The JOERide is made up of three components:
Hardened plastic cradle
Food-grade silicon strap
Nut and bolt


The JOERide cup cradle is made with injection moulded nylon, that's durable and can easily withstand the knocks, bumps and weather exposure a bike receives.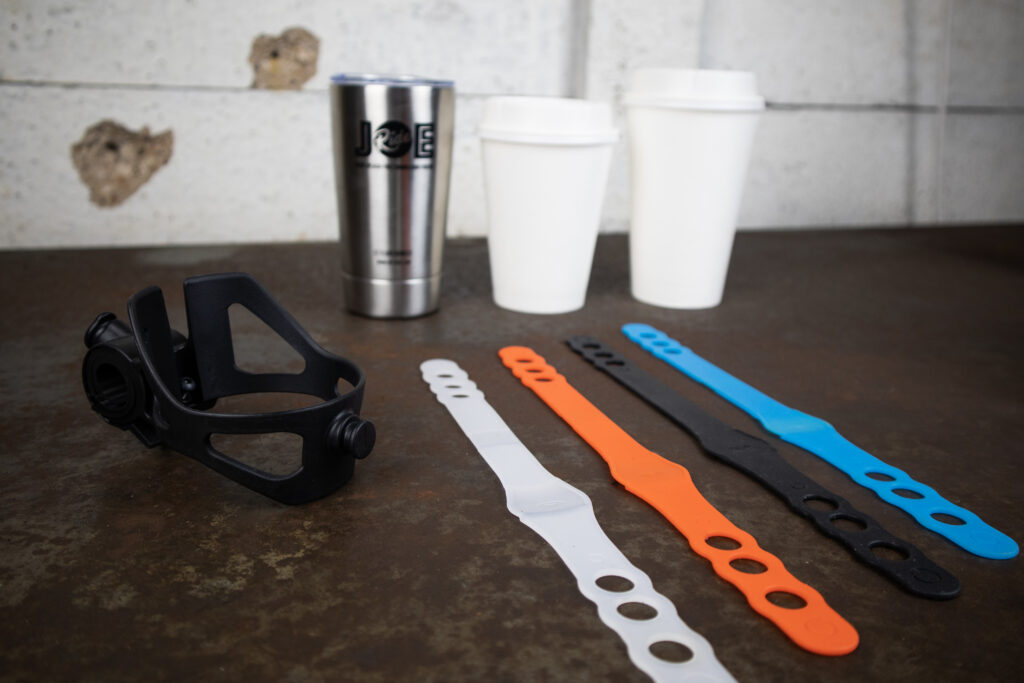 Whilst the cradle is rigid, its handlebar clamp is flexible, allowing you to mount the JOERide over chunky handlebars. 
As mentioned, the silicone straps are food-grade and BPA-free, so they can be washed and cleaned easily as they naturally pick up coffee marks over time. 
Since I was only testing this for two weeks, I'm unable to comment on how the straps will hold up long-term, but checking customer reviews online, you didn't see any complaints. 
I also asked the founder of JOERide, Patrick Esquibel, several questions in a Q&A format, which you can read here. 
Easy Access When On The Move
Before testing, I thought the silicone strap the JOERide uses to stop spills would make accessing your drink on the move a bit of a faff. 
This would have severely affected the product's usability, as its sole purpose is to allow you to drink your coffee while riding.
However, several rides and a few too many Americanos later, I'm familiar with how the strap works and don't find it an issue to operate when on the move. 
As long as you realign the lip side of the strap over the drinking hole in your cup, you'll have fewer spills and, consequently, more coffee!
How User-Friendly Is the JOERide?
The JOERide is designed to be attached to handlebars for easy access when cycling and only takes a minute or two to attach. 
Three rubber spacers are supplied, ensuring the JOERide holds firmly in place and making it compatible with handlebars with a 22 – 30mm diameter. 
A single hex blot secures the plastic cradle in place, which is tightened using the provided hex key. 
Whilst the JOERide is designed for bike handlebars, it also works well with strollers, scooters, segways and almost any other vehicle with a handle/rail.
Whilst the JOERide is very easy to attach, there's one small change I would have made with this, which I'll cover later in the review. 
As I've already mentioned, before testing, I assumed the JOERide would be fiddly to operate when riding.
I hadn't used a cup holder with a strap before now and imagined it would be a nuisance to strap & unstrap when riding.
However, after several rides and getting used to the cup mount, I can now sip coffee on my morning commute while keeping spills to an absolute minimum.
At first, I had to glance down when removing my cup from the JOERide, but I can now quickly put the anti-spill silicone strap back in place after sipping without taking my eyes off the road ahead.
I'm not a fan of producing unnecessary waste, so I usually use my reusable coffee flask when buying take-out coffee.
As you can see from the image above, my flask only just fit into the JOERide, but I could still ride with it securely in place. 
There is a solution to this, which I cover below.
Can the JOERide Hold Re-usable Cups & Bottles?
The JOERide is designed to hold take-out style cups that are wider at the top and therefore wedge themselves inside the cradle. 
This does mean that as it is, the JOERide isn't compatible with straight bottles or cans. 
If that's a deal-breaker for you, check my alternative drink holder suggestions below or my review of the best bike cup holders.
To help reduce the use of disposable coffee cups and allow you to carry whatever drink you want, JOERide recently launched branded 12oz flask that is available on their website for a reasonable price.
The flask fits snugly into the holder and enables you to hold a cup's worth (350ml) of coffee or whatever else you fancy drinking!
I enjoy the minimalist design of the flask. However, I found one issue that slightly put me off, which is covered towards the end of the review in my possible improvements section. 
What Size Cups & Flasks Fit in the JOERide?
As shown in the image, the JOERide is compatible with regular 12,16 and 20-oz to-go style cups. 
I've also read online that it's suitable for larger cups, such as the Starbucks 30oz Trenta cup, but I haven't tried this myself.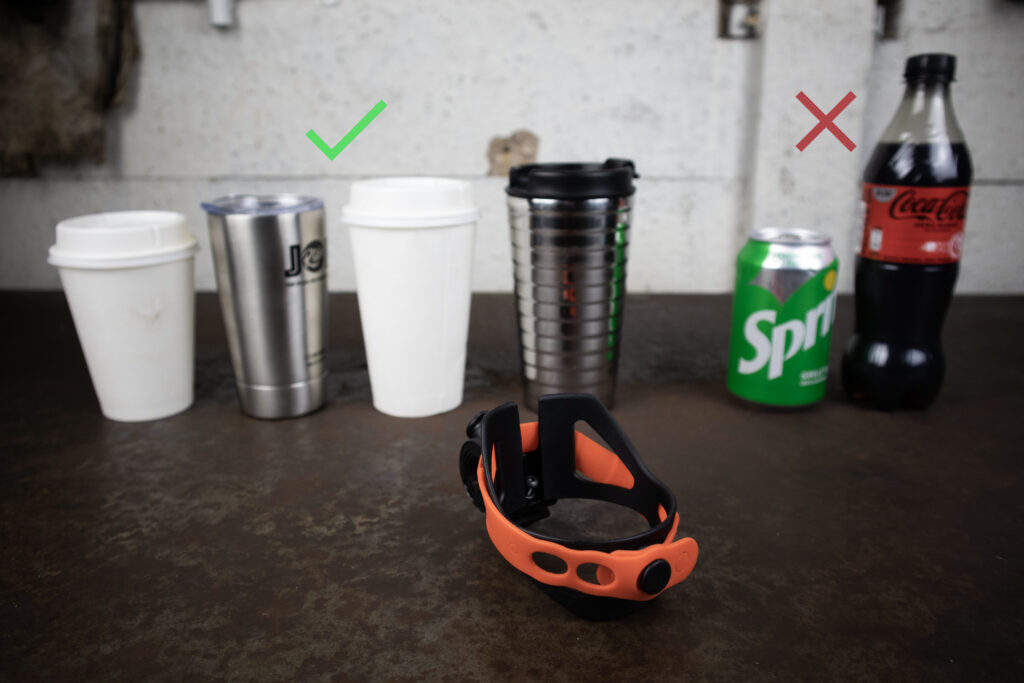 JOERide Q&A - With Founder Patrick Esquibel
How Could the JOERide be Improved?
During testing, I came across a couple of changes I'd like to see from the to the JOERide and one from its flask:
JOERide Cup Holder - Changes I'd Like to See
For increased security, I'd prefer the JOERide to be mounted in place with a security Torx bolt rather than a regular hex bolt.
Security Torx bolts are opened with a security Torx-specific tool, which are less common than hex keys, reducing the chances of the JOERide being pinched by an opportunist thief. 
In addition, I'd love to see some form of attachment that could clip/strap onto the JOERide, allowing you to carry bottles can cans. 
If an attachment like this was available, I think it'd be very popular with JOERide owners and increase the number of cyclists this cup holder works for. 
JOERide Flask - A Change I'd Like to See
Unfortunately, after using the flask several times, I noticed a buildup of loose plastic particles collecting under the sliding lid cover next to the mouthpiece. 
This was a shame since I liked the look and feel of the cup, but I'm sure I'm not alone in being put off by microplastics. 
Whilst the plastic lid is BPA-free, microplastics don't do anything good for us if ingested or when accumulated in nature.
A shame. But correctable if the plastic lad was altered or swapped out for a similar metal & silicone part. 
If this was rectified, I'd use this flask even when I wasn't rising my bike, It's a lovely shape and nice and compact. 
Is the JOERide Worth its Price?
The JOERide retails for just over $20 on their website, which is very reasonable compared to similar products on the market. 
You can view the most up-to-date price for the JOERide on their website or on their Etsy store [Etsy link].
Of all the to-go style coffee cup holders I've tested, the JOERide does the best at limiting spillages, whilst providing you with easy access to your drink whilst on the move. 
Whilst there are cheaper bike coffee cup holders available, you'll eventually earn the difference back with the coffee you would have spilt!
Deciding whether or not a product is worth the money is completely subjective, so my answer to this question might not be the same for everyone. 
If you often use to-go style cups, the JOERide is easily one of your best options, but if not, check out my alternative cup holder suggestions just below, or my guide on the best bike cup holders.
Alternatives to the JOERide
Delta Beverage Bike Holder
If you're looking for an anti-spill coffee cup holder, the Delta Beverage Holder isn't in the same league as the JOERide. 
However, with its supportive base, this bike cup holder is slightly more versatile and can hold a wider range of drink containers. 
That said, the Delta Beverage Holder doesn't grip tall slim bottles, which can be held, but will rattle inside.
The overall finish and quality of the Delta Holder aren't as polished as the JOERide, but its price reflects this. 
Read more about the delta here.
HandleStash Bike Cup Holder
The HandleStash is one of the most popular bike cup holders on the market and for good reason. 
This suspension-equipped, shock-absorbing cup holder does an excellent job of keeping your drink in its container and is the most versatile holder I've tried when it comes to holding different-sized drinks containers.
Skinny cans, thin bottles, and chunky flasks are not a problem for the HandleStash. 
Again though, if you mainly ride with to-go style coffee cups, the HandleStash doesn't have the same ability to prevent spills as the JOERide, since it doesn't cover the top of the cup.
It's also more expensive than the JOERide but is made in the USA, which is nice to see.
If interested, you can learn more on the HandleStash website or read my detailed HandleStash review. 
Summary - My Thoughts on the JOERide
I've enjoyed using the JOERide with my bike over the past few weeks. It's well-designed and does a great job at preventing spills when used alongside disposable-style coffee cups.
I'm yet to find another bike coffee cup holder with better anti-spill performance than the JOERide, so if you love picking up a takeout coffee, this could be the perfect option. 
Since it's not compatible with bottles or cans, it was a shame that the lid of the JOERide flask was giving off microplastics. 
I always attempt to reduce the amount of single-use waste I produce, and whilst the flask allows you to carry your drink of choice, microplastics flaking off the lid after several uses wasn't great, BPA-free or not.
I recently updated my guide on the best bike cup holders, have a read if you're interested to see how the JOERide compares to other options.
I'm looking forward to future updates from JOERide and will update this post if any changes are made!